PAST EVENTS IN 2017
JANUARY: SPA IN GERMANY
Spa in Baden Baden, Germany, Saturday 14th and Sunday 15th January.
FEBRUARY: NUDE BOWLING IN PARIS
137 people attended a naked bowling tournament in Paris on Tuesday February 7th.
MARCH: SWIMMING IN HALLUIN (NORTH OF FRANCE)
An evening with our friends at Club Originelle, Saturday March 4th from 7pm till 9pm.
MARCH: NUDE THEATRE
On Sunday March 5th, we organised a naked theatre afternoon in Saint Denis with 69 people in attendance, with two performances of Légende by the Trimarrants, a medieval comedy as never before seen, with nude actors and audience! The restaurant on site was also privatised for the naked crowd, allowing us to enjoy a naked lunch and dinner.
MARCH: NAKED WATER POLO
On Monday March 6th, we hosted an evening of nude water polo. Thirty-four players enjoyed 90 minutes of fun combat (with lots of pauses in between).
MARCH: NAKED DISCO
A nude disco evening on Saturday March 18th.
MARCH: WATER PARK AND SPA IN BELGIUM
An evening at Aquaparc in Ghent, Belgium, Saturday March 25th, followed by a day at Thermen R (Roeselare) wellness and sauna complex on Sunday 26th.
APRIL: BALNÉADES IN ORLÉANS
An evening at the Balnéades spa in Orléans, with our friends from the Association Joie et Santé. Saturday April 1st.
APRIL: WEEKEND IN DIJON
A tour of the old town on the Saturday and three hours in a spa centre on Sunday April 9th.
MAY: ANNUAL GENERAL MEETING
The ANP's Annual General Meeting, on Sunday May 14th.
MAY: NAKED WATER POLO
Following the success of March's event, we held a second nude water polo tournament on Monday May 15th.
JUNE : FESTIVAL OF THE ART OF LIVING NAKED
IMAGINAT invited us to the first Festival of the Art of living Naked, which took place over the weekend of Pentecost, with numerous activities organised throughout the weekend at Héliomonde and in Paris, From Saturday 3rd to Monday 5th June.
JUNE: WORLD NAKED BIKE RIDE
The ANP was present at the WNBR on in the streets of London to protest against pollution and to show the fragility of cyclists in the face of increasing traffic on Saturday June 10th.
JUNE: BOWLING IN OZOIR-LA-FERRIÈRE
An evening in the alleys with our friends from around the Île de France region, Thursday  June 15th.
JUNE: OPEN DAY
To coincide with International Nude Day, the ANP organised, on Friday June 30th, an "open door" evening with free entry for everyone to discover our association, our activities (pool, water aerobics, swimming lessons, gym, yoga, steam room...) and naturism at the Roger Le Gall Swimming Pool in the 12th arrondissement of Paris.
JULY: NUDE HIKE
A naked hike with l'APNEL on Sunday July 9th.
JULY: A DAY AT THE ESSONNE SUN CLUB
A day at the Club du Soleil de l'Essonne, Sunday July 16th.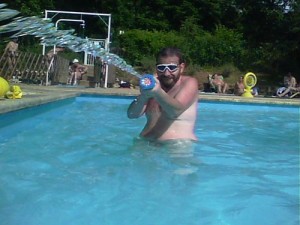 JULY: A DAY AT THE HESPÉRIDES SUN CLUB
A day at the club Les Hespérides in Étréchy on Sunday July 30th.
AUGUST: PICNIC AT HÉLIOMONDE
Héliomonde, Saint Chéron, Sunday August 13th.
AUGUST: ARCHERY AT CREIL
Archery at the Creil Sun Club, Sunday August 27th.

AUGUST 31ST: INAUGURATION OF THE NATURIST ZONE IN THE VINCENNES WOODS
Around 40 naturists participated in the opening of the first ever public nude area in Paris, with over 50 journalists, Thursday August 31st.
SEPTEMBER 3RD: PICNIC
For those who couldn't make the inauguration of the new naturist area in the Bois de Vincennes on Thursday, a picnic was organised on Sunday, September 3rd, all afternoon starting at midday.
There was a yoga session starting at 12:30, after which over 300 naturists picnicked together.
SEPTEMBER: ANP AT THE "FORUM DES ASSOCIATIONS"
The ANP once again manned a stand at the 12th arrondissement's annual "Forum des Associations" on Saturday September 9th, from 10am til 6pm.
SEPTEMBER: CONCERT
A jazz concert at the Club Gymnique de France, Saturday September 9th, from 7pm til 11pm.
SEPTEMBER: "FÊTE DE L'HUMANITÉ"
We joined our friends at APNEL for the Festival of Humanity over the weekend of September 15th to 17th.
SEPTEMBER: SAUNA
An evening at Aqua Saint Paul with the Sun Club of France, Tuesday September 19th.
SEPTEMBER: WATER POLO
Our third nude water polo competition at the Roger Le Gall Swimming Complex.

OCTOBER: OCÉADE + SPA
A weekend at Océade and the Thermae Boetfort Spa, Belgium, Friday 6th and Saturday 7th October.
OCTOBER: NATURIST EVENT IN PARIS
A 222-32 organised its first naturist event at the Génie d'Alex, with yoga, a knitting workshop, singing class and a dance party, plus food and drinks all day and even a barber!
SUNDAY OCTOBER 15TH : PICNIC IN THE BOIS DE VINCENNES
To mark the last day of the tear for the naturist zone in the Vincennes Woods, the ANP is organised a picnic from midday and 730 people showed up! 
OCTOBER 20TH - 22ND: 46TH INTERNATIONAL SWIMMING GALA (ITALY)
Gala organised by the Internatioal Naturist Federation in Andalo in Italy, from Friday October 20th till Sunday 22nd.

NOVEMBER 2ND: OPENING OF O'NATUREL NATURIST RESTAURANT
The ANP was invited to the opening of O'Naturel, Paris's first naturist restaurant, on Thursday November 2nd.
NOVEMBER: NUDE BINGO
Naked lunch and bingo at the Club Gymnique de France in Villecresnes, Sunday November 5th.
NOVEMBER: NUDE BOWLING IN OZOIR-LA-FERRIÈRE
Naked bowling in Ozoir-la-Ferrière, Thursday November 23rd.
NOVEMBER: BALNÉADES IN ORLEANS
An evening of balneotherapy in Orleans with the Orleans Sun Club on Saturday November 25th.
DECEMBER: NAKED DINNER
60 people at a nude dinner in an Italian restaurant the centre of Paris, Thursday December 14th.
All of our activities: Pool, Gym, Steam room, Monthly drinks, External events.