ANP membership gives you unlimited access to all of our activities at Roger Le Gall Sports Complex, at Georges Rigal Swimming Pool: pool, swimming lessons, water aerobics, gymnasium, gym classes, Pilates, yoga, steam room, massage and more.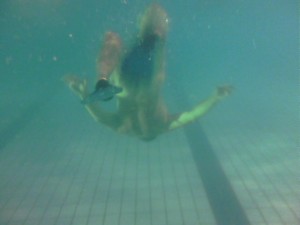 Stages towards membership
You can ask for a free invitation for your first visit. Everyone has the right to just one invitation in his or her lifetime; subsequent visits are charged. Bring a piece of identification and a swimming cap (you can also purchase an ANP bathing cap at the welcome desk).
Before becoming an ANP member, you must come three times as a visitor. During these three visits, you can fully participate in all activities, just like a member, but you can not yet attend the sessions on Tuesdays and Thursdays, reserved for members only. These visits are reciprocally unbinding as far as future membership is concerned.
After these three visits, you can become a members of the ANP. We invite you to look at our rates. We can also provide you with an FFN (French Federation of Naturism) licence.
Why buy an FFN licence?
For those who go to naturist resorts

To be connected to the naturist world
To take advantage of special offers reserved for cardholders
To support the FFN's efforts in the advancement of naturism
To have an international licence
The licence provides you with numerous advantages (discounts, exclusive offers...) but more important is what you give by supporting the French Federation of Naturism: you give life to the naturist movement. Without your support, the Federation can't obtain new beaches or maintain already existing areas. It's thanks to the time and energy invested by volunteers who promote and normalise naturism that you can fully enjoy naturist places all over France today.
FREE INVITATION
Before printing your invitation, we request you to read our house rules.
Click here to download an invitation.
rates
A naturist sports association with four swim sessions and five gym sessions per week at an amazing price! See our rates here.
PaYment On line:
Valid only after three visits or for renewals.
27 years and over: €173 (for one year from the date of payment, FFN membership included)
18 to 26 years: €73 (for one year from the date of payment, FFN membership included)
One month membership €30
All three tariffs allow you to fully enjoy all of our activities online and at Roger Le Gall and Georges Rigal Swimming Pools. There is a fourth tariff for those who wish to support the ANP, without the unlimited access that the three other provide:
ANP supporter €30